Law in the United States of America Series - Right to Travel Part 1
Law in the United States of America Series
Upgrade to paid to play voiceover
The Right to Travel is a growing movement in the United States of America in which people are refusing to use, and actively cancelling, all contracts, licenses, permits, registration, insurance, and otherwise associated with the act of utilizing a automobile or any other conveyance for the purpose of getting around, in whatever business they may have.
The Right to Travel is not expressly written in the Constitution as is the Right to Bear Arms and the Right to Privacy but is regardless a fundamental aspect of our illimitable Rights. The 9th Amendment to the Constitution states that "The enumeration in the Constitution, of certain rights, shall not be construed to deny or disparage others retained by the people," meaning that as long as the people maintain their affirmed rights and all those that have not been mentioned in the Constitution, that those Rights cannot be converted into a privilege, or circumvented or altered to fit the demands of States or any government in the United States of America.
In this Series, I am going to share with you the philosophy (to think) and phiosophy (to act) of this movement and I am going to share with you a step by step procedure to exit the contracts you have made, deal with police during their illegal roadside harassments (traffic stops), and how to deal with the courts.
Lots of people out there are describing very fanciful ways of defying the courts, and I certainly encourage you to do your due diligence and research, but I will share with you here a clear and concise methodology to manage each step of the process and to have a rock solid case for appeals to true Constitutional Courts, if necessary. I am also sharing detailed templates that you can utilize in your own Right to Travel situations if you should find yourself in need. These are mostly documents that I have built from scratch, with some that I have incorporated into my methodology.
Some terms that we want to immediately disassociate ourselves from:
State National; Sovereign Citizen; Constitutionalist; Person; Commercial; Driver/Operator: Understand.
All Case Law is fundamentally opinions. Law in the USA has gone far off the tracks laid down by Constitution and has certainly been violated by the deviation from Natural Law. Natural Law is the Law of Nature or God, given by the same to all Men from conception. It is inherent in our existence. These are our Natural Rights, which are illimitable, truly unalienable, infinite and adamantine. Natural Law includes the Right to defend oneself from harm, to locomotion without arrest, to free speech, thought and action as long as those actions do not cause harm to others. This is a defining feature of a Right; that it does not interfere with the Rights of others.
While Natural Law is the first tier of all Law, Constitutional Law exists as the Second Tier. The Constitution of the United States of America was constructed almost two and a half centuries ago, in the language of the time. As the rules of our language change over time, it is important to educate oneself on the motivations, intentions and meanings of the language from the perspective of the authors. We must also recognize that the document was far from perfect. It was meant as a beginning, not a conclusion. The difference between the Free People and the forces of oppression, is that we the Free People would like to see the evolution of our society into ever more freedom, while the oppressors simply want evermore control and suppression of the freedoms of the People.
Those who have done their research do recognize the intent of the Constitution to be a protection of our freedoms against the encroachment of tyranny by governments and individuals.
We hold these truths to be self-evident, that all men are created equal, that they are endowed by their Creator with certain unalienable Rights, that among these are Life, Liberty and the pursuit of Happiness.--That to secure these rights, Governments are instituted among Men, deriving their just powers from the consent of the governed, --That whenever any Form of Government becomes destructive of these ends, it is the Right of the People to alter or to abolish it, and to institute new Government, laying its foundation on such principles and organizing its powers in such form, as to them shall seem most likely to effect their Safety and Happiness.
-Declaration of Independence
As you can see here in the Declaration of Independence, Government is instituted by the consent of the People and derive all of their power from the same. This is a clear indication that the People are the pinnacle and only true authority. That authority includes the Right and duty of the People to cast down unjust Government.
"We the People of the United States, in Order to form a more perfect Union, establish Justice, insure domestic Tranquility, provide for the common defence, promote the general Welfare, and secure the Blessings of Liberty to ourselves and our Posterity, do ordain and establish this Constitution for the United States of America."
-Constitution of the United States of America, Preamble
Here again we see a clear recognition of the authority of the People. It is the People who have authorized the creation of the constitution, and it is the People alone who can alter or abolish it.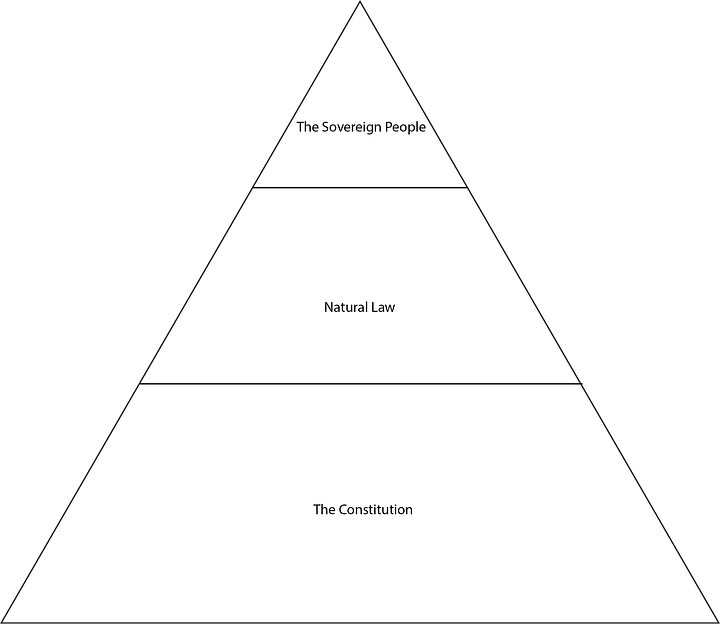 These images describe the true nature of Law and authority vs the oppressive wet dream of the psychopathic parasites that seek to control others with undeserved, unearned, and unconsented to authority.

The first image shows that the individual Sovereign Living Man is the ultimate authority. Natural Law is the only true Law that exists, appearing when two or more people exist. It is how we can determine Rights and Wrongs, based simply on whether one Sovereign Living Man has caused harm to another Sovereign Living Man. If no harm has been caused, there is no violation of the Law. The Constitution of the United States of America is a barebones affirmation of this Law, though tainted by various extra components that grant excess authority to governments.

The Second image is the authoritarian nightmare that we are currently living in and allowing more and more of in the world today. The government using its police powers to be the boot stamping on a human face, or in other words, the owner whipping and controlling his chattel, his slaves.
"There will be no curiosity, no enjoyment of the process of life. All competing pleasures will be destroyed. But always— do not forget this, Winston— always there will be the intoxication of power, constantly increasing and constantly growing subtler. Always, at every moment, there will be the thrill of victory, the sensation of trampling on an enemy who is helpless.
If you want a picture of the future, imagine a boot stamping on a human face— forever. "
―George Orwell,1984
Essentially, we are witnessing the greatest violation of Rights in the greatest period of human potential. We are witness today to the utter annihilation of Natural Law and God-given Rights. This great atrocity leaves us with no choice but to combat these destructive forces. To draw a line in the sand, and to pile all of our Rights on the hill we will die on. We need to demand through our thoughts, our words and our actions, the complete reversal of the encroachment of evil, i.e., government.
With this basic principle in mind, we find ourselves confronted with the issue of police (clown pirates) hunting on our public roads for innocent Sovereign Living Men, to harass, threaten, coerce, imprison, assault, and often murder them. Those who escape the immediate dangers involved in these unjust and unwarranted "traffic stops" are faced with layers of the same dangers afterward when they are demanded to appear in courts to face charges referred to as "traffic violations" and sometimes even considered criminal violations, such as when a Man does not have insurance for his private property.
The complete ineptitude of justice, honor, and dignity by the executive and judicial officers is only compounded upon by the willingly cowardly, docile, and ignorant population that may sit on juries to determine the validity of charges. We are faced on all sides by a complicit population of slaves who are obedient to their masters due to unearned love and idolatry or valid fears of reprisals by thugs dressed in funny costumes.
The practice of policing the roads is one of the most extensive control apparatuses of the leviathan. It is a major component of the greatest extortion racket known to man. Government itself. Road pirates are a danger to our society, our peace, our humanity and our Sovereignty. We have been relegated to the bottom of the pyramid, and nobody gives the slightest shit. Well, not nobody. There is at the very least myself, and those others who demand all their Rights and live as Free Sovereign Living Men. I will never surrender my Rights again. I stand firmly, an immovable object in the face of overwhelming force and say NO. Let our successes and failures be lessens for the next Man in line, and for every one of us that goes down may two others spring up. This is the nature of the situation we face today.

Around 95% of all court cases are ended with plea deal. This is a major problem. Never, ever, ever, should ANYONE plead guilty in court. You are innocent until proven guilty and your opponent (the prosecution) must prove beyond the shadow of a doubt that you are guilty. That is not so easy once you know how to manage yourself in court and how to tip the balance in your favor.
Liberty Uncensored Newspaper is a community-funded publication. We not only create content here on substack, but use the funds we receive from loyal supporters here to create a physical newsprint delivered directly to the public to get a wider audience involved in the conversation about Freedom. To receive new posts and support our work, consider becoming a free or paid subscriber.
Liberty Uncensored is Free to the World!
But it's not free to run.
---
It is no small feat to beat the system at its own game. Judges, prosecutors, public defenders, police and clerks of court are all members of the government. As such they collude to bring people to court, try them, and find them guilty. These agents are not part of the People of the United States of America when they are in uniform and on the job. They become servants of the People, though today they rarely act like it or even understand it. Despite this disregard or ignorance, We the People can still hold them accountable and turn the tables on them when they commit crimes upon us.
Here, I will now tell you how to untie yourself from contracts that were made without your consent, under threat and duress, and coercion.
Firstly, you must recognize a simple fact. That any document you have signed with any government, an agent thereof, or even with some private entities have contracted you into their legal domain and have separated you from your Sovereignty in their eyes. Even if you did not sign something, you may have given assumed consent by not answering within a certain amount of time or in a correct manner. Recognize this, and you can do something about it.
You will need to create rescission documents, notarized, and sent certified mail, to these agents who hold your contracts. Rescission, with an attached proper description of the falsity of the contract due to a lack of consent and lack of knowledge of the contract is going to make it possible present proofs in court that you have no binding contracts with the State. This is a very important step, as, with drivers licenses, your license cannot be officially cancelled in a way that removes it from your identity when government agents are looking up your record. You need to provide proofs that cannot be refuted.
An Affidavit is a Sworn Statement of Fact signed by a notary or even under declaration. A properly executed Affidavit is Law until rebutted by another Affidavit. If it is not rebutted within the reasonable timeframe given in the Affidavit, it is considered Law and is binding. When not rebutted/responded to, it is called tacit agreement. Agreement in silence. Never sign anything you did not write yourself or that suits your interests in clear and simple terms. Make them play by your rules. An Affidavit executed by you can land you in jail if you are obviously committing perjury, so make sure you are executing it in integrity and Lawfully.
HERE IS A RESCISSION TEMPLATE FOR DRIVERS LICENSE/DMV
You will need to cancel your insurance, remove your registration, and remove license plates provided by the state. You can then put new plates on your property. These plates can be as customized as you like, though I suggest adding the words, "NON COMMERCIAL", "PRIVATE", "PRIVATE PROPERTY". You want to make it very clear that your property is not being used as part of a business that earns revenue from utilizing the roadways. You can operate a business from your vehicle, but you cannot earn directly from the use of the vehicle on the road, such as a cab driver, a truck driver, a bus driver, etc.
Now that you have sent a rescission of your license and cleansed your property of its connections to extortive governments and pseudo-government entities like the DMV, you can begin to utilize your property as you see fit. The only problem is the police are very likely to bother you at some point. Judges and prosecutors are wolves waiting to gobble you up. And jails can never be too full in this country of over-active bullies. Next you will need to learn how to deal with all the other aspects of the Right to Travel. But you will have to join us in the following articles in this series to do so.
---
Get My Custom Right to Travel templates and contributing documents and educational material as they come out in this Series
OR


Become a Paid Subscriber to get all the detailed Right to Travel templates and contributing documents and educational material Now, including:
Motion to Dismiss
Request for Admission
Request for Production
Motion to Compel Production
Interrogatories
License Plate Template
Notice to Arresting Officer
Mandatory Questionnaire and Notice to Government Employee
Briefs in Support


All of the provided documents are Templates, not final products, and need to be altered to fit your particular needs. Ensure that you investigate anything you do not comprehend and work to gain more insight into the meaning of terms used and how they will affect your situation.
-Corey Haag


We need your help to bring it to the next level!
Blessings!
Email- info@libertyuncensorednp.com
Odysee- https://odysee.com/@libertyuncensored:b
Telegram- https://t.me/libertyuncensored
Twitter- https://twitter.com/LibertyUNP
Keep reading with a 7-day free trial
Subscribe to Liberty Uncensored Newspaper to keep reading this post and get 7 days of free access to the full post archives.